Translating is a profession in which many people are interested at the moment. We know that translator is a profession with high income. So what is a translator and the skills needed to become a good translator will be introduced in detail in the article below.
What is a translator?
A translator is a person performing work related to translating text from one language into another without changing the original's meaning. Translators are usually required a bachelor's degree or a certificate in any language except their native language. The main tasks of translators include:
Convert concepts in the source language into text equivalents in the target language. Manage work schedule to keep up with deadlines. Express ideas accurately, quickly and clearly.
Need to write sentences fluently, select main ideas & facts. Be proficient in using computers and translation support tools, including dictionary, translation memory, CAT tools, etc.
Translating basic documents such as: Identity cards, degrees, transcripts, CO, CQ, certificate, etc. to specialized documents such as: Law, medical, engineering, digital currency, etc. Translation projects such as games, series, and e-commerce websites also require a lot of translators to participate.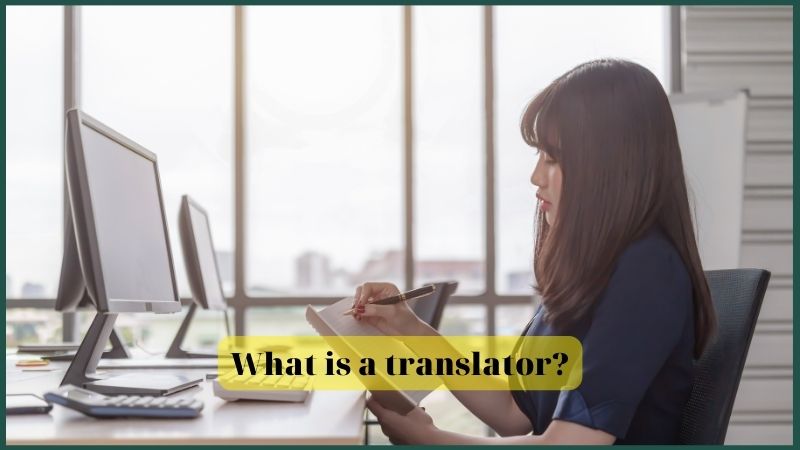 Based on that situation, it can be seen that the translation profession is still extremely "HOT" and is the destination profession of many people who are studying linguistics.
How to become a translator?
You are already a translator with a high level of skills and vast knowledge. If you are wondering where to choose for your translation career, Translation24h temporarily shares suitable working locations for you.
Translator should work at a translation company.
At the translation company, the translators will be trained to improve their foreign language skills a lot. In addition, the customers of translation companies are also diverse from the requirements of specialized translation or translation expertise to the form of translation requiring you to improve your translation knowledge continuosly, expand the vocabulary and have the ability in language and presenting. Being a translator at the translation company also requires intensity and high work pressure, so the translators are trained and equipped with other translation support software to improve their working speed.
In addition, the income at translation company is quite stable. Beside basic salary, there are bonuses, social insurance, the percent of commission according to the volume of work you can complete each month. Working in a corporate environment, you have the opportunity to promote to the positions of head of office or manager can improve your income.
Working in the government agency is also not a bad choice.
To work in government agencies, you have to compete with many candidates. In Vietnam, the parents in general still want their children to work in the state agencies, so there are many records applied which makes your chance smaller. Currently, the positions for translator in state agencies are very few and require other translation skills (listening + speaking).
The salary of state translators is quite small; however, the bonus for good translators who go abroad with delegations is very high.
Private companies are an ideal destination for translators.
Choosing a private company or an organization is a reasonable destination for those who like safety. Most private companies only translate their own specialized documents such as: Law, pharmacy, import and export, etc. the diversity requirements will be much less. Working in private companies, the pressure on working time as well as the speed of completing the translation will not be very heavy. However, they require the high word accuracy. It is very suitable for those working leisurely but carefully and meticulously.
The income of tranlators at private companies is also stable, mostly with fixed salary and social insurance benefits. To increas your income, you should get a job as a translator if you want.
Working as the freelance translator, collaborator, freelancer
Currently, freelance translators and collaborators are the choice of many people in the translation field. Beside being free, whether or not to accept jobs as you like, you also can choose a comfortable workplace. Unlimited hours, no need to go out, no need to report to the boss, cool air conditioning is what is the most benefit that freelance translators possess.
Freelance translators also need versatility in the field of translation because of the diverse requirements of clients. The income of highly qualified translators who works as a freelancer is really high. They can easily earn 50 million dong each month.
What to do with those freelancers? Let's always improve the personal qualification, at the same time look for customers and partners finding collaborators to have perfect jobs.
How to become an excellent translator?
Be able to read many different languages. To translate correctly, the translator needs to read the origincal text in many different languages. He needs to understand both the original and the meaning to be conveyed to translate correctly.
Be able to write well. A good translator needs to know many different styles when editing them from one text to another. It is also important to use punctuation at the right time to make the text more coherent. Translation does not convert from one language to another. You also have to choose the words and intonation carefully, so that the original material can reach the reader with the highest quality and smoothness.
Be able to use bilingual dictionaries well. The use of bilingual dictionaries requires a high level of technique. In other words, to be a good translator, you must master this skill. Sometimes, two words that are the same have different meanings in specific situations. Therefore, a translator needs to correctly understand the meaning of a word in a particular context. The knowledge of culture, history and life will make your job easier.
Be able to ask valuable questions. In the translation field, the accuracy is very important. Therefore, if there is anything the translation cannot understand, they must know how to clear up that questionable point by asking the right questions.
What does it take to be successful in the translation profession?
Qualification is not necessary. However, having a university degree or getting certified in translation expertise will greatly help you in finding a job or working as a freelancer.
Trust your language expertise in a specific field such as baking, finance, sports or marketing. Digging into a certain field makes you more professional. That also increases the quality of translation and creates the trust in customers.
Be familiar with the content of topic you will translate before accepting cooperation or agreeing to an assignment.
Another useful advice is practicing your second (or third) language everyday. Participating in a exchange program or working abroad is essential for you translation skills.
Another useful piece of advice, is to practice your second (or third) language every day. Participating in an exchange program or working abroad is also very good for your translation skills.
Current income of translators
The income as well as the salary of the translator depends on which environment you are working in? And is there any orientation about the translation career?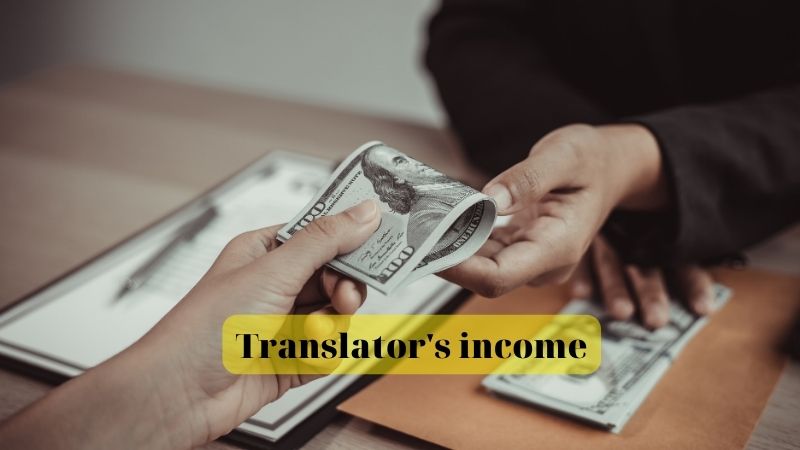 As an official employee for a company or an organization, the salary will be fixed from 8 – 10 million dong/month, depending on the initial negotiation by the two parties. In addition to the fixed salary, there will be a percentage of commission or monthly working capacity with a corresponding bonus regime. However, if you are a freelance translator, your income will not be fixed.
The income of professional translators is at the top of the list compared to the general salary level. The salary of a translator depends on the volume of work completed and the quality of the translation as well as the punctuality with client or business owner; If you are attentive, responsible and work hard as well as meet the above factors, you can earn 15-20 million per month and maybe more.
Despite the high income, the work pressure always follows in every situation. The errors will have great consequences, especially for the mass media, so the use of words must be extremely careful. It should maintain the reputation as well as the quality of the personal brand.
Which language translator is the best.
There is no such thing as the best language for a translator, but the best language proficiency. Improving professional qualifications and skills will help develop the personal brand. To make the choice of language to become a translator in the future, Translation has the following shares:
Chinese translators are the bright future.
China has the most population country in the world and of course the number of people using Chinese is the largest in the world. Vietnam is a neighbouring country with China in economic cooperation and trade which has been developing. Therefore, the need for Chinese translation is very necessary.
Although there are many Chinese translators now, those with professional qualifications and language certificates are limited. That is an opportunity for those who are aiming to become a Chinese translator to develop themselves.
In recent years, Chinese businesses are rushing to Vietnam, foreign businesses cooperate with Vietnam to temporarily import for re-export, making the Chinese translation market also exciting.
Thus, do not hesitate to learn Chinese and earn yourself the highest language certificate to practice.
English translators are having more supply than demand.
The demand for English translation is also great, but those who have the qualifications and ability to translate are quite common nowadays. This is significantly reducing the attractiveness of English translation job.
To evaluate which language to choose, please refer to here
The difference between translator and interpreter
Interpreting focuses on translating speech, while translation mainly deals with text.
Translators need support tools, while interpreters are only based on experience and improvisation.
Translation requires very high accuracy, while interpretation only requires not to distort the original meaning.
Interpretation handles the service on-site, while translation takes a few days or longer to complete.
Skills that translators need.
As you know, being fluent in a foreign language doesn't mean you can become a good translator and interpreter. A good and professional translator needs many different factors and skills. We list the skills required of a professional and good translator.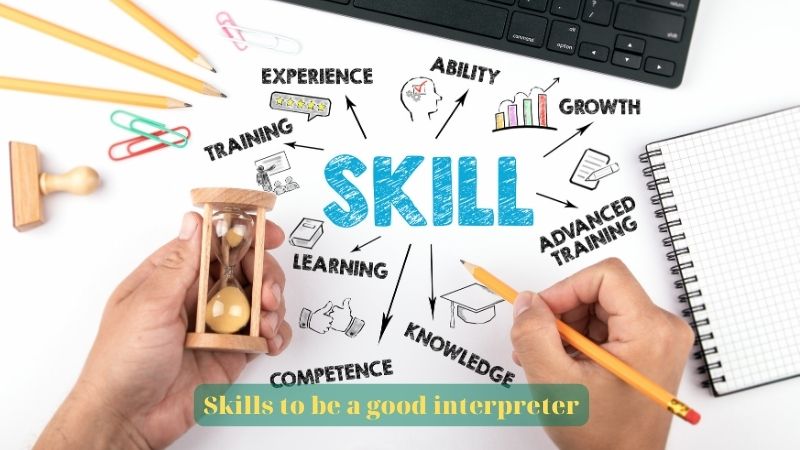 The higher the foreign language skill, the better
One of the first and mandatory skills of a translator is foreign language skills. The translators need to be proficient and master at least one language not only listening, speaking, reading and writing skills, but also the ability to accurately and fully express the meaning of the original text.
Professional (specialized) translation skill.
Specialization is becoming a trend, at the same time specialized translation is also more and more interested by customers. Professional skill here is simply understood that the translator needs to cultivate in-depth expertise in a certain field or industry such as medical, education, economics, finance, engineering, electron, etc. This helps to accurately translate professional words, and improve translation quality.
Before translating, let's have a deep understanding of the native language.
Understanding the native language in translation, it sounds strange, but this skill helps the translator to become better, and the translation is getting better and better. Translators must understand and use fluently the mother tongue to express smoothly and concisely but still have enough meaning, avoiding confusing and stupid translations. The experience and living capital of the translators is also an advantage for them when translating. Discovering more criteria to evaluate a reputable and quality specialized translation company here.
Good writing ability and rich vocabulary.
When translating specialized documents, translators need to have good writing skills and a rich vocabulary. People say that if you want to become a good translator, you must become a good writer first. Good writing skills, expressing enough ideas, making it easy for readers to understand are the things that the translators need to cultivate and aim for. The richer the vocabulary is, the better the translator will write and the more diverse the writing style will be.
Dictionary lookup skill
Searching is a necessary skill in translators because sometimes we will encounter words that we do not know. The ability to look up words is very important, translators can refer to some suggested translation tools such as SDLX, Transit, Trados, DejaVu for faster lookup and translation. Accurate lookup is also an important factor to make the translated text more accurate.
Understanding different cultures
Language is not simply language but also contains cultural meanings. To learn about the different cultures of the country, you can watch movies or TV shows, listen to the radio or read documents about that country. Understanding the culture of the country will make it easier for you to understand the meaning of the circumstances in the translated text, so that the translation is also fast and accurate, and the words are better.
Good emotional management
One of the skills that translators need when translating specialized documents is good emotional management. For some majors, the management of emotions is sometimes not so important, but for some cases such as translating documents on legal, criminal, medical, and critical situations, this skill is extremely important. At this time, it is necessary to stay rational and reassure people through language.
Professionalism at work
Professionalism is a necessary skill in almost every job, not just the translation field. It helps translators work more disciplined and efficiently as well as ensure the time. Professionalism required in each company, the translation environment is different, but in general, it still requires the translator to have a polite, honest, enthusiastic and timely manner, etc.