Where is the best notarized Japanese translation? If you are looking for a reputable and quality notarized Japanese translation unit, Trans24h company can provide this service fast at the lowest price in the market.
Reasons of notarized Japanese translation
There are many reasons why it is necessary to have notarized translation of documents into Japanese, or from Japanese to Vietnamese. We summarize some of the following reasons:
Individuals who need to make documents for travel, study abroad, labor export, or Japanese experts and employees work in Vietnam. It must be submitted the type of documents such as: Academic transcript, diploma, certifiate of merit, curriculum vitae, marriage registration, passport, visa, etc. These documents need to be submitted to the agencies in Japan or Vietnam so that people can capture the information of people coming to their country. Therefore, these documents must be notaried translation into Japanese or Vietnamese.
When businesses, corporations or individuals need to translate a project, company profile, financial statement, bidding document or business registration from Japanese to Vietnamese and want to notarize these translations for helping to ensure its legitimacy and enhance the trust for partners.
Japanese translation serves as a language bridge to help the contracts, economic and business exchange cooperation to be smooth and successful.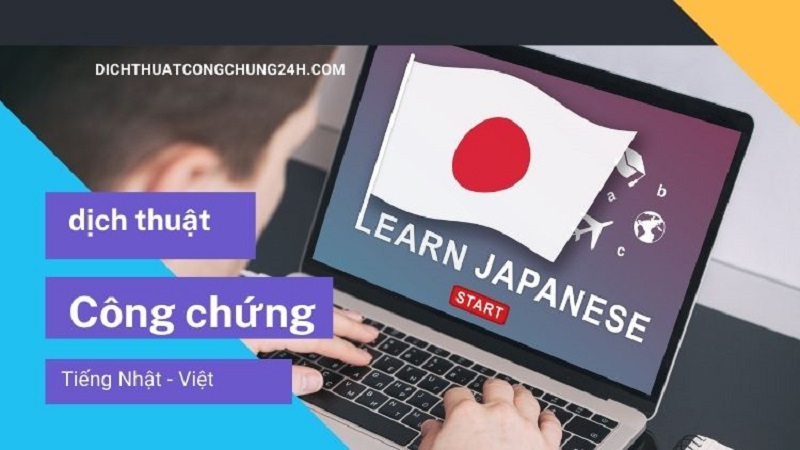 Notarized Japanese translation steps
Step 1: You send documents in Japanese or Vietnamese to us via email info@dichthuatcongchung24h.com, zalo 094894422. Or you can bring documents directly to the office. We will check the documents and give you a quote.
Step 2: After receiving your document, the translator will translate the content from the original into the required language. For example: Vietnamese original will be translated into Japanese. After that, the translation will be sent to the customer to check whether the translation information is accurate or not. After the translation is checked, it will be notarized.
Step 3: The translation will be signed and legally stamped by the notary and the translator.
Step 4: You can receive the notarized Japanese translation in 2 types (soft copy and hard copy). The soft copy will be delivered via zalo or email. For hard copies, you will receive directly at the office or through the shipping unit.
How much is the notarized Japanese translation price?
At Translation24H, the Japanese translation and notarization price is extremely low. Unit price is as follows:
| | |
| --- | --- |
| Japanese translation price | 75,000 – 90,000 VND |
| Notarized Japanese translation price | 20,000 VND/copy |
| Price for judicial notarization of Japanese | 50,000 VND/copy |
| Consular legalization of Japanese | 300,000 VND/seal |
Time for completing notarized Japanese translation
For simple and small documents, it will be completed in 24 hours. However, some customers need to get it within the day, it is still possible. The fee for notarized Japanese translation service done quickly within the day will be added 100,000 VND.
A reputable and cheap notarized Japanese translation company
Translation24h – Notarized Japanese translation company has many years of experience in the field of translation, which has been implementing many projects for organizations and individuals wishing to study abroad, travel, visit relatives, business registration permit, financial statement, company profile, work permits of foreign organization, foreign citizens studying and working in Vietnam.
Address of the notarized Japanese translation office.
24h Notarized Translation Company Limited (TRANS24H) is a professional company with reasonable price and good quality of translation.
Headquarters: No. 52A Nguyen Huy Tuong, Thanh Xuan, Hanoi
Hotline: 0948944222
Website: dichthuatcongchung24h.com
For any questions and requests, please contact the consultant directly.
Commitment to Japanese – Vietnamese translation customers
The translation content is accurate and closest to the original
The forrmat is closet to the original.
Ensure legal validity
Extremely fast processing time can do within the day.
Cost is always 20-30% lower than other companies.
About Trans24h's Japanese translator team
Be confident with a team of professional, young, enthusiastic Japanese translators and interpreters, and experienced collaborators who are lecturers in reputable universities and large enterprises can understand deeply the fields of specialized Japanese translation they are in charge of.
With a professional translation team, Trans24h always serves our customers for work and responsibility. We always have the spirit of developing, renewing, cultivating the knowledge as well as know how to listen to the needs and meet the needs of customers in the best and fastest way.
Dịch vụ dịch thuật tiếng Nhật đa chuyên ngành, đa lĩnh vực
In the field of translation and notarization of Japanese <> Vietnamese, there are a variety of texts, documents, specialties and records. Like many languages that are used for translation and notarization in Vietnam, we classify them into the following translations.
Japanese translation services frequently used:
Japanese translation of bidding documents: Business registration, company profile, financial statement, etc.
Japanese translation specialized in economics, finance and banking, medicine, medical equipment, insurance, technical drawings, project explanations, telecommunications, chemistry, biology, mathematics, etc.
Translation of study abroad document from Vietnamese to Japanese
Japanese translation of accounting record, audit, rental report, official documents
Translation of documents such as book, newspaper, magazines of science, technology, and society into Japanese and vice versa
Japanese translation of identity card.
Japanese translation of criminal record
Translation of household registration book, Japanese birth certificate
Translation of study record, diploma, curriculum vitae, certificate of merit in Japanese
Translation of university degree, academic transcript, certificate of merit in Japanese
Translation of marriage registration, household registration, birth registration in Japanese
Translation of personal document, household registration, birth certificate, identity card in Japanese
Translation of Japanese degree and certificate
Translation of labor contract and payroll in Japanese
Translation of study abroad document, documents applying for VISA, labor export in Japanese
Translation of business registration, investment certificate in Japanese
Translation of Japanese economic contract
Translation of financial statement, company profile in Japanese
Translation of certificate of origin (CO), certificate of quality (CO), bill of lading (BL) in Japanese
The cheapest Japanese translation cost in Hanoi
For corporate customers, we always have the different incentives such as:
Recurring payments at the end of month
5 – 10% discount
Apply business-specific pricing