Currently, there are quite a few companies that need the fast and cheap Chinese notarized translation. 24h Notarized Translation Company Limited provides translation, interpretation and notarization services with quality, prestige and competitive price. We are the leading unit in handling Chinese translation documents, as well as other languages.
The need for notarized Chinese translation.
Currently, the large Chinese companies and corporations have been manufacturing and doing business in Vietnam's provinces and cities. In the process of exchange and cooperation in all aspects between Vietnam and China, the need for notarized Chinese translation has arisen.
The relevant documents ensuring the accuracy and legality are essential. Therefore, notarized translation from Chinese to Vietnamese and vice versa is mandatory. This has made the demand for notarized Chinese translation increase dramatically in recent years.
With the advantage of long sea route and favorable geographical position when trading with China, Vietnam has been placed in the investment sights of international businesses. The Vietnamese government's policy for foreign investors is extremely preferential such as tax exemption, investment facilitation, and cheap labor which promotes Vietnam to connect with China.
Thus, it can be seen that the demand for notarized translations from Vietnamese to Chinese, from international languages to Chinese or vice versa is increasingly developing.
Notarized Chinese translation service TOP #1 in Vietnam
24h Notarized Translation Company is a leading unit in the field of translation. Translation24h has experienced and highly qualified translators who will handle many difficult documents, complete quickly and especially the price is very competitive. Therefore, we deserve to be number 1 in Vietnam.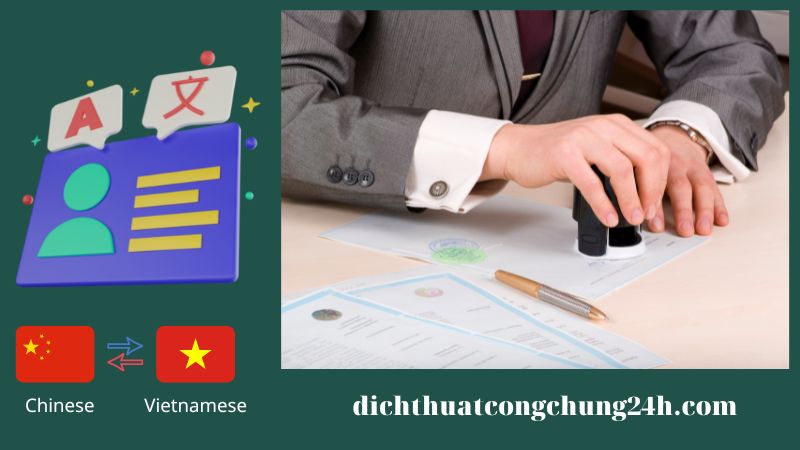 Translation24h notarized Chinese translation upon request.
To meet the diverse needs of the customers such as: Notarized translation from Chinese to Vietnamese
Chinese has more than 10 dialects, of which Mandarin (Standard Mandarin) is one of the four main languages used in Singapore, the rest Traditional Chinese is used in Hong Kong, Taiwan, Macau, etc. Although the customers require traditional or simplified translation, Translation24h can be completed it.
Many countries use Chinese as the main language, so the culture in each country is different. Therefore, Chinese is considered as one of the most complex and difficult language to translate. Translation24h company translates and notarizes the translation from Chinese to Vietnamese and other languages around the world.
We have completed many different large projects in Chinese. Many customers who have been working with us are satisfied with the professionalism as well as the speed of completing every project.
Notarized Chinese translation service with high quality at Translation24h
Our service is not only fast but also cheap. The current unit price applied to our customers is reasonable. Our goal is to become a leading translation company in Vietnam which can create the economic efficiency for businesses and successfully connect with other countries. Moreover, we also can quickly solve the necessary procedures for the customers.
The price list for translating Chinese into Vietnamese ranges from 65,000 VND to 90,000 VND/page. The more notarized Chinese translation customers do, the better the discount will be. In addition, the price applied to the customers who are the partners of company is also quite preferential.
Chinese translation criteria at Trans24h
Put the customers first
Guaranteed quality
Lowest price in the market
Professional personnel
Be ready for support
If you need to translate an Economic Contract, a Bidding Document, a hydropower project, a financial report or just a short transaction E-mail, etc. from Chinese to Vietnamese or vice versa, so please choose us for the following reasons:
The company owns a professional Chinese translator team
Understanding that the quality is always the top concern of the customers, Translation24h company applies a rigorous selection process to the translation team. At least 3 years of professional translation experience or more, in addition, the translator must be fully equipped with background knowledge and experience related to the area of specialization they translate.
If you need online notarized translation, please contact us immediately for good translation with high speed and competitive price.
Quality assurance process for Chinese translation
To ensure the quality of the translation, we strictly follow the standard translation process such as receiving and quoting documents, and then the project manager will assign a Chinese translator who is suitable for the specialization to translate, proofread and notarize the Chinese translation at the request of the customers after handing over the translation.
Timely completion of translation and notarization
Whether it is a large or small translation project, Trans24h company always ensures to complete the translation on time with high quality or before the deadline agreed with the customers.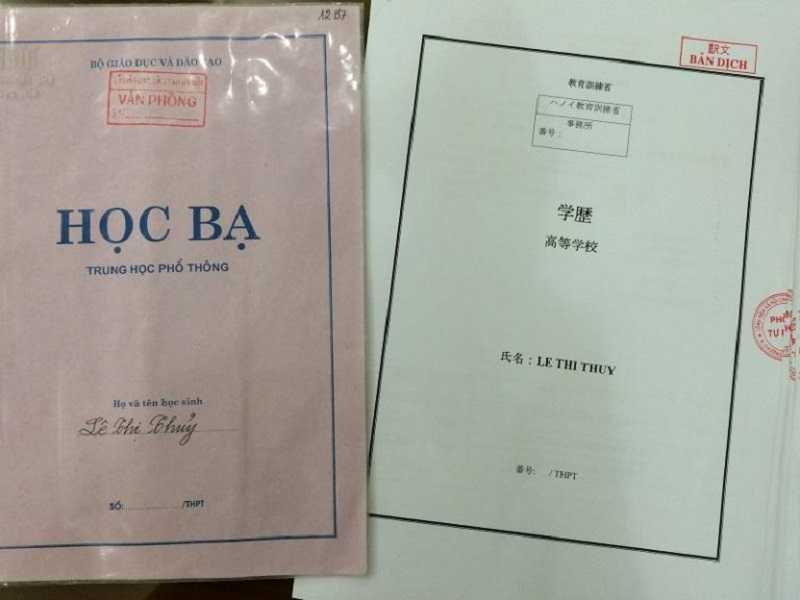 The most competitive notarized Chinese translation prices.
Translation24h is committed to offering the most competitive, reasonable and transparent prices to bring the best economic efficiency to our customers. Because of the above factors, we are currently a reliable translation service provider of many state agencies, enterprises, large domestic and international projects.
The Chinese papers, records and documents that we often notarize and translate
Translation of Chinese identity cards.
Notarized translation of Chinese criminal records.
Translation of household registration books and birth certificates in Chinese.
Notarized translation of study records, diplomas, curriculum vitae and certificates of merit in Chinese.
Translation of university degrees, academic transcripts and certificates of merit in Chinese.
Notarized translation of marriage registration, household registration books, birth certificates in Chinese.
Notarized translation of Chinese identity documents, household registration books, birth certificates and identity cards.
Notarized translation of Chinese degrees and certificates.
Notarized translation of labor contracts and payroll in Chinese.
Notarized translation of study abroad documents or documents applying for VISA and labor export in Chinese.
Notarized translation of business registration and certificates of investment in Chinese.
Notarized translation of economic contracts in Chinese.
Notarized translation of financial reports and company profile in Chinese.
Notarized translation of certificates of origin (CO), quality (CO), and bills of lading (BL) in Chinese.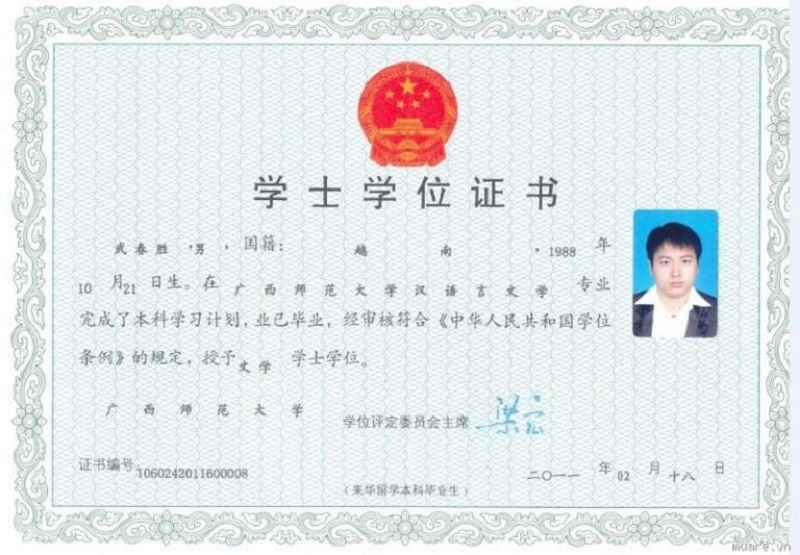 Please contact us for detailed information:
24h Notarized Translation Company Limited
Address: 52A Nguyen Huy Tuong, Thanh Xuan, Hanoi
Hotline: 0948944222
Website: dichthuatcongchung24h.com